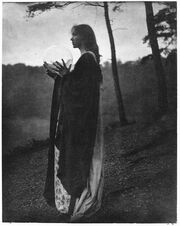 Witches are one of the four types of characters in the world of the All Souls Trilogy. Among them are humans, vampires, and daemons.
Witches vary in their magical abilities and strengths, including timewalking, precognition, flight, transmogrification, telekinesis, witchwind, witchfire, witchwater, and manipulation of the elements. A very few witches are weavers, who can create new spells. Some spells created by weavers cannot be written as simple words for other witches to use, but can only be used by the spells' maker. Weavers make a forspell, revealing the shape of their talents, and often the weaver's familiar too.  Weavers have been forced into hiding, since other witches have feared their power. The first witch may have been a weaver.
Witches of All Souls
Edit
Ad blocker interference detected!
Wikia is a free-to-use site that makes money from advertising. We have a modified experience for viewers using ad blockers

Wikia is not accessible if you've made further modifications. Remove the custom ad blocker rule(s) and the page will load as expected.